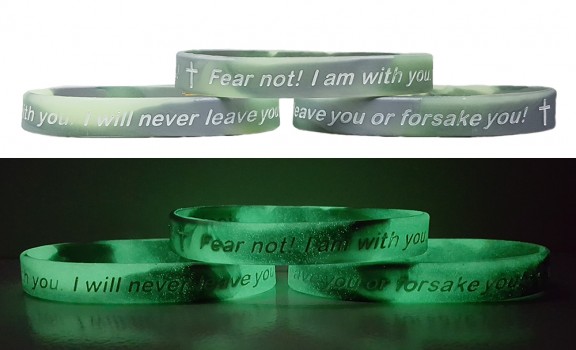 SILICONE WRISTBANDS, Deut. 31:6 FEAR NOT
Description
Growing our with Truth = what God says.
"Fear Not!  I am with you. I will never leave you or forsake you!"  Deuteronomy 31:6
Quality Wristbands with Ink Embedded inside Embossed Wording ~ Wording doesn't wear off!
GLOWS IN THE DARK



GREAT FOR MISSIONS FUNDRAISING!
$15 1-3 SHIPPING ANY QUANTITY usually shipped same day if ordered early!!!
Priced as follows:  1-23 =    $1.49 each
                                 24 =  $33.36 ($1.39 each)
                                50 =   $64.50 ($1.29 each)
                              100 =   $99.00 (99¢ each)
                              500 = $470.00 (94¢ each)
                           1,000 = $890.00 (89¢ each)
 EASY ORDER: