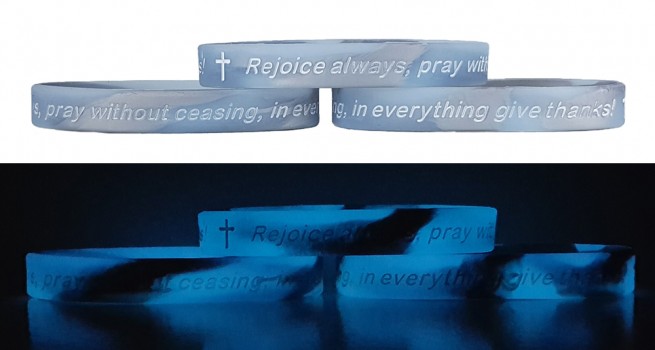 SILICONE WRISTBANDS, 1 THESS. 5:16-18 REJOICE ALWAYS
Description
Growing our Faith with Truth = what God says.
Rejoice always, pray without ceasing, in everything give thanks!"  1 Thessalonians 5:16-18
Quality Wristbands with Ink Embedded inside Embossed Wording ~ Wording doesn't wear off! 
GLOWS IN THE DARK



MISSIONS FUNDRAISING DOESN'T HAVE TO BE STRESSFUL . . . THIS IS YOUR PERFECT FUNDRAISER!  EVERYONE IN YOUR CHURCH NEEDS AT LEAST 1 FOR THEMSELVES AND THEIR FRIENDS!
Invest $85 in 100 and sell for $2+ each (doubling your investment) while sowing God's Word into hearts and minds.  Sell Bags with multiple or assorted wristbands for $10 or $20.
$10 1-3 USPS DAY PRIORITY MAIL SHIPPING ANY QUANTITY usually shipped same day if ordered early!!!
Priced as follows:  1-23 =    $1.24 each
                                 24 =  $23.76 (99¢ each)
                                50 =   $47.00 (94¢ each)
                              100 =   $89.00 (89¢ each)
                              500 = $420.00 (84¢ each)
                           1,000 = $790.00 (79¢ each)
 EASY ORDER: