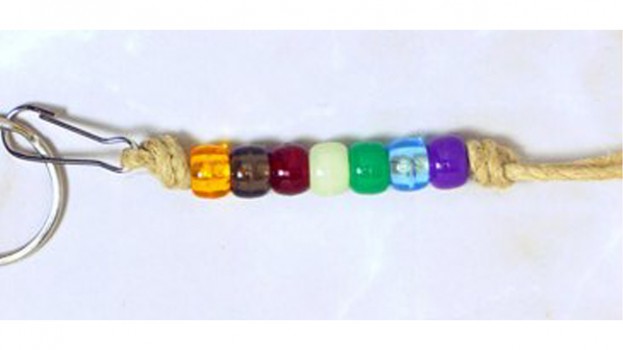 PREPPED SUPPLIES, Salvation Key Rings / Zipper Pulls Cotton Cord
Description
Evangelism tools help prepare one's heart to understand and receive the Gospel. Using the Salvation Key Ring / Zipper Pull as a FREE GIFT softens the heart, and thus, prepares the lost to accept Christ. Various methods are practiced to share the Good News using Salvation Bracelets, Salvation Silicone Wristbands, and Salvation Key Rings / Zipper Pulls.
3" x 4" Salvation Message Cards available in English, Arabic, Haitian Creole, Portuguese, Romanian, Russian, and Spanish. Salvation Message and Scripture Cards compliment Salvation Key Ring / Zipper Pulls as they explain the meaning of each of the bead colors per God's Plan of Salvation, and include a Prayer of Salvation on the reverse side.  The pocket size Salvation Bracelet Scripture Cards may be used as a Study Guide when preparing and learning to share the Gospel using the Salvation Key Ring / Zipper Pull and are good to carry as a ready reference.
Includes pre-cut cotton cords (14.5"), 1 pack each of all 7 colors beads, and Split Ring & Snap Hook Sets 2mm to make Salvation Key Rings / Zipper Pulls.  You might consider ordering a Bead Tray for easier organization and assembly.
Prepped Supplies = Medium Difficulty (Cord cut)  <- you're looking at
Craft Kits = Easiest (Prepped Cords, Beads and Split Rings and Snap Hooks separated into individual baggies)
Over 30 Bead Styles & 6 Cord Options below to choose from.  Featuring CUSTOM GOLD and RED BEADS and popular GLOW IN THE DARK WHITE BEAD!
> Hover cursor over Salvation Bracelet thumbnail pics above to view Bead Style # and Name. 
> Click on pics for enlarged images:

See Bead Style Gallery for more detailed information regarding Bead Styles.
Please call, text, or email us for custom made Key Chains / Zipper Pulls using only 5 or 6 beads of your choice.
Priced as follows:   $71.99 Pack makes 100  (72¢ / salvation key rings / zipper pulls)
                             $182.99 Pack makes 265  (69¢ / salvation key rings / zipper pulls)
                             $353.99 Pack makes 530  (67¢ / salvation key rings / zipper pulls)
                             $655.99 Pack makes 1,060  (62¢ / salvation key rings / zipper pulls)
EASY ORDER: