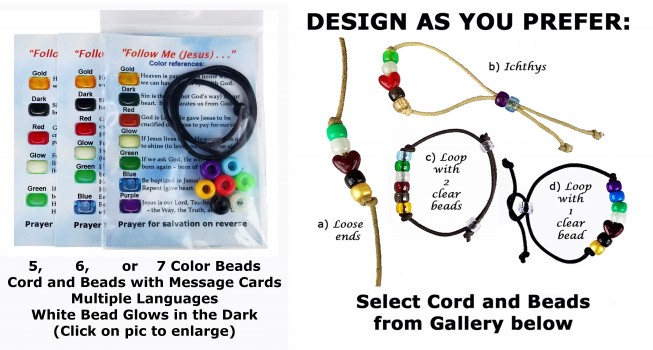 Share this product
CRAFT KITS, Custom Premium Salvation Bracelet with Message Card
Description
Create your own Exceptional Quality Unique Customized Salvation Bracelet Craft Kits
ONLY THE BEST FOR OUR GOD!
Each Shine in the Dark Salvation Bracelet Craft Kit Includes:
1 - 3" x 4" Salvation Bracelets Message Card Multiple Languages (English Version using all 7 Color Beads)
     To order Kits without Message Cards, go to -> this page
1 - 14.5" Premium thick 2mm round cord with 1st knot tied off-center. Cord will fit through one bead twice and lasts at least one year continuous wear.
1 - each of all 7 color beads or 5 or 6 beads depending on Message Card selected (Message Cards for Shine in the Dark Salvation Craft Kits using only 5 or 6 Beads are available only in English, clear beads optional)
There are many ways to tie a Salvation Bracelet, however, after many years of experience, we believe the easiest methods for all ages other than the Loose Ends Design, which can be difficult to tie onto the wrist with only one hand, are the Ichthys and the Loop with 1 clear bead Designs. The loose ends of these two Salvation Bracelet Designs may be tightened with extra knots for continuous wear.
How to Make a Salvation Bracelet Assembly Instructions PDF
A reference sample preassembled Salvation Bracelet is included with orders to make 100 or more Salvation Bracelets. 
Awesome Selection of Gold and Red Beads and Premium Cords to choose from.
All White Beads Glow in the Dark, which creates a special interest in this unique, treasured keepsake. 

> Click on thumbnail pics below in Bead Style Gallery to enlarge images and view Bead Style # and Name:
See Bead Style Gallery page for a more detailed explanation regarding Bead Styles.
Priced as follows:  Cotton Cord = 85¢ per kit
              Genuine Leather Cord = 95¢ per kit 
Mulitples of 100 are DISCOUNTED 10¢ each on this page
For assistance placing an order, please call or text 1-901-870-2608. 
Customize your Salvation Bracelets by clicking on each drop-down menu below (If you don't like making choices, just click "Add to Cart" after 1 - Select Message Card and 2 - Select Cord Preference to have us select Bead Color Combination and Bracelet Design and then change the quantity in the cart):