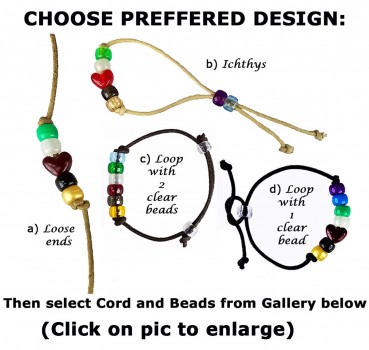 CUSTOM PREMIUM SALVATION BRACELETS, Preassembled (5,000)
Description
Design your own Exceptional Quality Unique Customized Salvation Bracelets
ONLY THE BEST FOR OUR GOD! 
Premium thick 2mm round cord options lasts at least one year continuous wear.  
Shine in the Dark Salvation Bracelets are Adjustable, One Size Fits Most up to an average man. 
Awesome Selection of Gold and Red Beads and Premium Cords to choose from.
All White Beads Glow in the Dark, which creates a special interest in this unique, treasured keepsake. 


> Click on thumbnail pics below in Bead Style Gallery to enlarge images and view Bead Style # and Name:
See Bead Style Gallery page for a more detailed explanation regarding Bead Styles.
$50 SHIPPING and a 5% Discount given on this page for an order of 5,000 Salvation Bracelets. You may add Instructions below if you'd like for us to prepare various styles by providing your numbered style preferences and quantity for each. Please limit your style choices to 5. We'd like to have a 15 day lead time including 2 weekends to assemble 5,000 Salvation Bracelets before the required ship date. 
For assistance placing an order, please call or text 1-901-870-2608.   
Customize your Salvation Bracelets by clicking on each drop-down menu below (If you don't like making choices, just click "Add to Cart" after 1 - Select Cord Preference to have us select Bead Color Combination, Bead Colors, and Bracelet Design):