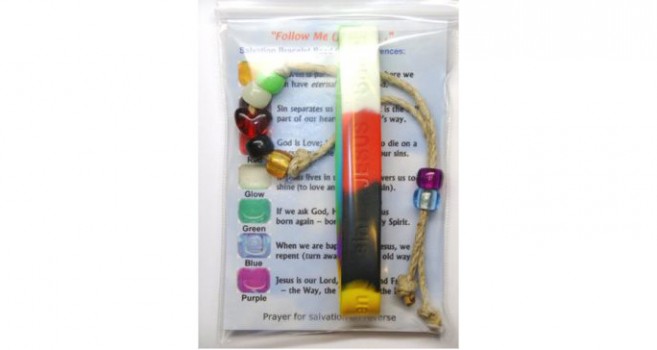 Share this product
GIFT BAGS, Salvation Bracelet (Loop with 1 Clear Bead) and Silicone Wristband with Message Cards
Description
Individually packaged Silicone Salvation Wristband and Salvation Bracelet (Loop with 1 Clear Bead Design) complemented with a 3" x 4" Salvation Bracelet Message Card which explains the colors and words meanings on the Salvation Bracelet and Salvation Wristband:
Gold = Heaven (is paradise - a home where we can have eternal life with God)
Dark = sin (is the evil - not God's way - in our heart; sin separates us from God)
Red = JESUS (God is Love; He gave Jesus to be crucified on a cross to pay for our sins)
Glow White = Shine! (If Jesus lives in us, He empowers us to shine (to love and overcome sin)
Green = Reborn (If we ask God, He will make us born again -born of the Holy Spirit)
Blue = Repent (Be baptized in Jesus' name. Repent - give heart and will to Jesus)
Purple = LORD (Jesus is our Lord, Teacher, Friend - the Way, the Truth, and the Life)

Wristbands available in English and Spanish or No Print (not embossed). 
Message Cards available in Multiple Languages.
Customize your Salvation Bracelets by clicking on each drop-down menu below (If you don't like making choices, just click "Add to Cart" after 1 - Select Message Card and 2 - Select Cord  to have us select Bead Color Combination):